Affiliate Marketing Viewpoints
Affiliate Marketing is a widely used technique whereby a company pays a sales commission to an independent sales Affiliate. This can be a effective, and honest way to sell products with little commitment to the sales Affiliate. For the Affiliate there should be no investment required except for mostly third-party advertisement exposure/display services. The company often handles all the financial transactions and most Shipping/delivery activities.
Affiliate Concerns/Warnings
Some companies require the Affiliate to pay the company a fee before the Affiliate is eligible to receive any commissions. This fee may be a one-time sign-up fee, a periodic (ie monthly) administration fee, or both of these. Beware of any company that charges significant fees.
Some companies require the Affiliate to purchase the exact same product for them self before becoming eligible to earn commissions for sales of that product. These are usually expensive products that have a hot but short marketable life expectancy. Beware, most of these companies have a short life expectancy.
more to come…
Join me at SFI where I can Chat Online with you, no-cost & no-obligation:
( I am Super Proud of this landing page; please visit): >>
http://www.joinmysfiteam.com/13103660
(SFI is a Unique, No-Affiliate fee (ever), No-Purchase required, Affiliate Marketing business and training community)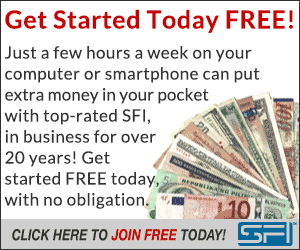 = == = == = == =
Advertising Links below are Published on this Blog by Shareaholic™ in exchange for their Services. I do not choose nor endorse the Links or their Target Pages. I hope you find the Service to be Beneficial.